USS Icefish
History & Statistics
Home / War Patrol Reports / Crew & Ship Photos / History & Stats / Links / Contact Us
---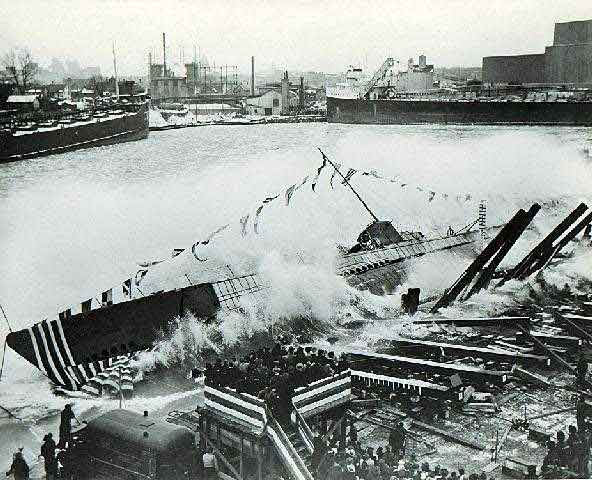 The USS Icefish is launched February 20, 1944 in Manitowoc, WI
(Photo courtesy of Norman Palter)



The USS Icefish was one of 134 Balao Class fleet submarines ordered during World War II.
However, a number of the orders – SS 356-360, SS 379-380, and SS 429-434 – were cancelled during the war.

The USS Icefish was one of 18 Balao-class submarines (SS 361-378) built by the Manitowoc Ship Building Company of Manitowoc, Wisconsin (the company also built SS 265-274 during the "1940-41 Emergency Program"). According to Manitowoc Submarines published under the sponsorship of the Manitowoc County Historical Society (1968), the Manitowoc submarines generally had the following profile:

Length Overall: 311 feet, 9 inches
Extreme Beam: 27 feet, 3 inches
Standard (Surfaced) Displacement: 1,526 tons
Submerged Displacement: 2,424 tons
Mean Draft: 15 feet, 3 inches
Designed Depth: 400 feet
Designed Speed: 20.25 knots/surface; 8.75 knots/submerged
Designed Complement: 8 officers; 76 enlisted men
Normal Fuel Capacity: 116,000 gallons
Torpedoes: 24
Armament: ten 21-inch torpedo tubes; one 5-inch .25 caliber deck gun; two 20mm guns; two .50 caliber guns. Later, two 20mm guns were removed and two 40mm guns added.


Ships Sunk
As Reported in War Patrol Reports

1 - AK @ 4,000 tons (1st War Patrol)
1 - Large AP (ANYO MARU Type) @ 9,300 tons (1st War Patrol)
1 - MIS (Lugger) @ 15 tons (5th War Patrol)
Total: 3 ships totaling 13,315 tons



Awards


Submarine Combat Insignias: 2 (1st and 4th patrols, according to its war patrol report attachments)
Battles Stars: 4
Asiatic-Pacific Area Service Medal
Philippine Liberation Medal
Victory Medal
American Area Medal


Miles, Fuel and Days at Sea
Totals for 5 Patrols

Miles Traveled: 56,647
Days at Sea: 347, including 95 submerged
Fuel Used: 730,575 gallons
Gallons per Mile/Average: 12.9



NavSource Online: Submarine Photo Archive has unique and rare photos, images and mementoes of the U.S.S. Icefish.

Key Dates

Keel Laid: September 4, 1943
Launched: February 20, 1944
Commissioned: June 10, 1944
Sea trials, training and deep dive tests (Lake Michigan): June 14-28, 1944 See another picture of the Icefish undergoing sea trials
Decommissioned: September 30, 1946
Recommissioned: May 5, 1952
Decommissioned: July 29, 1952
Recommissioned: December 10, 1952
Decommissioned: February 21, 1953 and loaned to The Netherlands See a picture of the Icefish after it joined the Dutch Navy
Returned to the United States and struck: July 15, 1971
Sold for scrap: August 15, 1971

For more information and photos of the Icefish after it was loaned to The Netherlands and renamed the Walrus (1), visit Dutch Submarines.


---
Home / War Patrol Reports / Crew & Ship Photos / History & Stats / Links / Contact Us
© 2022 USS Icefish