USS Icefish
SS 367
Home / War Patrol Reports / Crew & Ship Photos / History & Stats / Links / Contact Us
---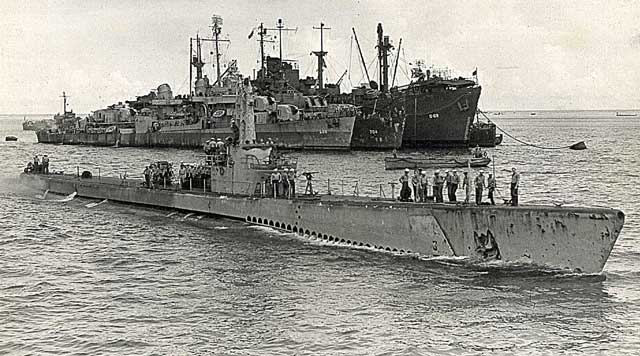 This site honors the men who served on the USS Icefish (SS 367)
during its five war patrols in the Pacific Ocean in 1944 and 1945.
*New*
Film clips taken during the 4th and 5th war patrols of the USS Icefish
Rescue of downed Army Aviators, June 7, 1945
Interdicting a small luger, taking of prisoners and target practice, August 7, 1945
A View Through the Icefish's Periscope




During World War II, the submarines of the U.S. Navy – the "Silent Service" –
achieved unrivaled accomplishments under overwhelming circumstances.
More than 250 fleet submarines were built during the war. Though only 1.6% of the total U.S. Navy,
the submarine force claim credit for 55% of Japan's shipping losses
(including at least 1,178 merchant ships and 214 warships) totaling more than 5.3 million tons.

Success was not without a high price. Fifty-two submarines along with 3,506 crewmen
– 22% percent of the submarine fleet – were lost during hostilities.
Twenty-two were awarded Presidential Unit Citations.

The USS Icefish and its crew played a part in this struggle.
This is its story.
---
The photo on this page is of the USS Icefish as it enters Saipan Harbor
following its fifth and final war patrol in August, 1945.

---



This Web site is for Howard M. Jameson, Jr., who served on the USS Icefish
for its fourth and fifth war patrols in 1945 and into 1946. I'm proud he is my father,
and he remains one of my heroes. Thanks, pop.
He is now on eternal patrol with his fellow crew mates.


---
Home / War Patrol Reports / Crew & Ship Photos / History & Stats / Links / Contact Us

© 2023 USS Icefish